Mulch and Munch in November
supported by Tesco
The trees in Pacers Field needed mulching so volunteers came and dug out round the trees and put mulch in. We started at 10.0am and some soup and a roll was provided at around lunch time. .

Seven New Trees Planted in Tranquil Garden
The Probation Service Unpaid Work Unit planted 7 trees in the Tranquil Garden February 2012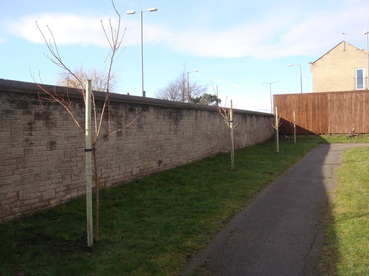 ---
ARDSLEY CHURCH RESCUES CAROLS IN THE PARK
The Reverend David Fry came to the rescue of Carols in the Park event 8th December 2011 as it was due to be cancelled for the second year due to the adverse weather conditions. The Church provided shelter for The Barnsley Youth Jazz Orchestra and Oakhill Voices to entertain The Mayor of Barnsley Councillor Karen Dyson together with Consort Councillor Martin Dyson and a full church, with carols and music. The Vicar commented "a precedent has been set as it is the first time that Jingle Bells and Rudolph the Red Nose Reindeer has been sung in church".


ARDSLEY IN BLOOM
SPRING JUDGING-30th March 2011

Yorkshire in Bloom judges Melvyn Riley and Angela Prime carried out the spring judging on Wednesday 30th March 2011 Accompanied by Terry Fellows (Chairman ARA) and Mike Frost (Secretary) John Ramsden provided the transport


YORKSHIRE IN BLOOM SPRING JUDGING 2011
ARDSLEY IN BLOOM
Yorkshire in Bloom judges Melvyn Riley and Angela Prime visited Ardsley for the Summer judging on Tuesday 12th July 2011


The Awards Ceremony at Harrogate
Silver Gilt Award for Ardsley in Bloom

Ardsley improved on their Silver award 2009 by gaining a Yorkshire Rose Silver Gilt Award (Spring Medal Position-Silver Gilt, Summer Medal Position-Silver Gilt) at the Yorkshire in Bloom Awards Ceremony at The Pavilions Harrogate on 20thSeptember 2011. Ardsley was one of four Silver Gilt winners out of 13 entrants in their group. Barnsley in Bloom also received a Silver Gilt Award.

The judges commented that "Ardsley is an attractive Urban Community that has a pleasant and thriving atmosphere. A wide dual carriageway that runs through the heart of the community could have fragmented it but instead the residents have turned it into a feature with daffodils that we saw in the spring and the barrel plantings in the summer. It is lovely to see the enthusiasm & commitment that the community has for improving their local area and how so many residents, businesses and agencies are working together to make Ardsley Bloom"