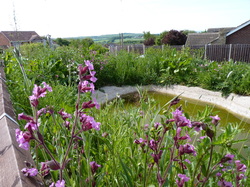 Ardsley Residents Association

On the 29th July 2010 Ardsley Residents Association achieved their original aim. The Mayor Councillor Margaret Sheard and Consort Tom Sheard officially opened Pacers Field. It has taken six years and a lot of work in the planning, funding and practically completing the require work.
The field, previously called Scarfield, is council owned and a horse called Pacer grazed the field in the 1970s also around this time allotments were gardened at the Cumberland Drive/Scar Lane end of the field, unfortunately they fell into neglect.

However the field has been used for recreational purposes for many years by residents. In 2004 the council planned a residential development for the field, Ardsley Residents Association was formed and objected, after a time the field was declared a green space. Discussions were held with all concerned as to the field's future, firstly it was decided that the field would be known as Pacers Field after the horse that grazed there; a project plan was proposed and accepted to develop the field for residents and visitors to enjoy the flora and fauna of the area.
The Probation Service, Community Service, Unpaid Work Unit agreed to carry out the work with support from Ardsley Residents Association and work started October 2009. Funding and support for the project has come from residents, local organisations/business,BMBC, Jo Birch Parks Officer, Howard Gaskin Neighbourhood Pride Area Manager, Stairfoot Ward Community Support Fund and a reduced rate for road plainings from Graham Bateson Smithies Depot., The project has transformed and improved the area. Thanks to all the people and organisations involved.However during this six year period of planning and preparation meetings were held regarding projects in the village that would benefit the whole village and improvements in the park to develop the welfare and recreational areas. The results are now self evident.

Start at the Village signs mounted on stone quarried locally and see spring flowers on the carriageways. Proceed past floral planters that are being placed in strategic areas. Look over the Park wall opposite a well maintained shrubbery bed. Daffodils line the central reservation of the dual carriageway in spring. One of the best Parks in the area its footpaths are now lit up, and the playing field is drained. Families are seen picnicking at tables with seating in the Children's Area.
Ardsley Residents Association wish to extend their thanks to the Local Area Forum, local businesses, and all those who have contributed financial and practical assistance, in helping them to make this possible.


The boundary stone at the west side of the village being installed
| | |
| --- | --- |
| Installing the stone West side of the village | Job completed |